Our House Plans Include:
Digital Files
Our house plans are delivered in digital format. PDF files can be easily shared with contractors and engineers, and can be forwarded to your local printer for copies (blueprints) printed to scale.  CAD files are also available. The CAD layers file includes the floorplan, dimensions, and roof layers in dxf or dwg format. The full CAD set includes the layers file along with CAD files of each sheet of the plans, including sections and elevations, in dwg or dxf format. When you purchase a CAD file, the PDF file is also included.
License
A single-use license is included with the purchase of any house plan set, including preliminary sets. With a single-use license, you can build the plan one time, or change it and build it one time. You can print out as many copies as you need to in order to build the home one time. Additional licenses are available for a small fee.
STANDARD HOUSE PLANS
Our standard house plan sets include the following:
Floorplans
Depending on the size of the home and number of stories, each set of house plans will include one to four sheets at 1/4″=1′ scale detailing the layout of the rooms in the house, dimensions, doors and windows, stairways, railings, fireplaces, ceiling heights, clerestory windows, plumbing fixture locations, cabinet and island layouts, coffered ceiling details, and key notes specifying any special design features throughout the house.
Elevations
The house plan exterior elevations are 2D CAD drawings of the front, back, right and left sides of the house. Courtyard plans may also include an elevation drawing of the interior of the courtyard. Elevations show wall heights, door and window header heights, roof pitch, covered patios and chimneys. In addition, the house plan elevations show details such as wall finishes, stone accents, exposed wood or metal beams, stucco pop-outs, overhangs, fascias, parapets, and any other accents or details on the exterior of the house plan. 1/4″=1′ scale. A 3D rendering of the front of the home is also included with the plans.
House Foundation Plan
The foundation plan includes the layout of the slab, posts, footings and foundation/basement walls.  1/4″=1′ scale.
Roof & Floor Layout
The roof plan includes information on the materials, pitch and overhangs of the roof. The direction and span of roof and floor trusses and joists are noted on these sheets. We carefully plan each roof and floor framing section to simplify rough-in access for plumbing, electrical and hvac ducting throughout the house. Bearing walls, bearing headers, and beam locations are noted with callouts as well. 1/4″=1′ scale.
Cross-Sections
House plan cross-sections are cut away views from two directions within the house – what you would see if the house were sliced in half. Sections show how the foundation, slab, walls, trusses, roof overhangs & pitches, parapets, insulation, posts & pillars, doorways, stairs, windows and changes in floor and ceiling heights relate to each other. All standard plans include at least two sections, 1/4″=1′ scale.
Electrical Layout
The electrical layout shows locations of outlets, switches, recessed lighting, wall sconces, flood lights, chandeliers, ceiling fans, CO2/smoke detectors and other electrical items throughout the house. 1/4″=1′ scale.
House Plan Notes and Details
Standard house plans include notes and details relating to building codes, typical wall sections, and special features such as stair details or environmentally friendly building materials. Cabinet elevations with information regarding sizing, spacing and layout of cabinets are provided as well. Door and window schedules are included on most plans. Some sustainable design features and notes are also included.
PRELIMINARY HOUSE PLANS
Preliminary house plan sets include only the floorplan, elevations, and roof layout sheets as noted above along with a single-use license. These plans are useful in several instances:
Obtaining Rough Estimates & Bids on General Contracting, Framing, Doors, Windows, Insulation, Stucco & Drywall, Roofing, Plumbing and Engineering Costs
Saving costs over purchasing a standard plan set if you know you will be making major changes using a local engineer or drafting company
Saving time and money on the back-and-forth design process by purchasing a license to use a pre-designed plan, but allowing a local drafting company or engineer to complete the plan set to local specifications
Provides an attractive layout and starting point for design-build and spec-build contractors that wish to compete the full set of plans themselves.
In communities with strict design guidelines, preliminary plan sets allow the HOA to review the general structure and style of the home and give feedback prior to purchasing a complete set of plans.
The cost of the preliminary plan set can be credited toward the purchase of a standard plan set for the same house plan within six months from the date of purchase.
Your Builder/Engineer Provides:
Site Plans and Surveys
Property surveys and site plans showing terrain details and the location of the house on the property are not included in a typical set of stock plans. If your builder is unable to assist with a site plan, 61custom can provide an estimate – fees are quoted on an individual basis. Site boundary and terrain surveys can be obtained from a local surveyor.
Architectural and Engineering Seals / Stamps
Due to variances in local building codes and requirements, structural engineering should be performed by a local engineer. Your builder and engineer are responsible for coordinating structural specifications & calculations, any necessary grading & drainage engineering, manufactured truss design & specifications, and any required seals/stamps. In most cases, the truss or lumber company you'll be purchasing materials from will have an engineer on staff that can provide this information. Plans are noted with callouts for easy integration with your engineer's specs.
Mechanical Schematics & Electrical Load Calculations
Some municipalities require mechanical and electrical schematics while others do not. Plumbing fixtures, air handlers and compressor locations are shown on the plans. Exact locations and sizing of HVAC ducting and vents, plumbing pipes, septic/sewer line locations & connections, gas line schematics, and HVAC equipment sizing are location-specific, often determined at rough-in, and not included. In most cases, your builder or sub-contractor can provide this information if required for permit. Standard electrical plans show light fixtures, switches, outlets, smoke detectors, and TV/network jacks. Electrical load calculations, wiring and panel diagrams, if required, are your builder or sub-contractor's responsibility.
Optional Items
Hardscape & Site Plans
You may choose to have a site plan drafted along with the house plans for an additional fee. Site plans show the location of the home on your lot along with utility connection points, well and septic locations, roads or easements, and general information about the property. Hardscape plans include a design layout for patios and pavers, BBQ and outdoor kitchens, landscape borders, decorative walls or fencing, and general pool size/shape and location. Prices vary based on the characteristics and size of your lot and the details you'd like to include. Contact us for an estimate.
Additional Licenses
A single-use license is included with the purchase of any house plan set. With a single-use license, you can build the plan one time, or change it and build it one time. You can print out as many copies as you need to in order to build the home one time. Additional licenses are available for a small fee.
Standard plan set and preliminary plan set licenses allow for one home to be built per license, or one derivative design to be built one time per license. You cannot resell the plans or revised versions of the plans. 61custom reserves the copyright to all designs. 61custom plans and/or derivative works may not be resold or published in any form on any website or publication without the expressed written permission of 61custom. Multi-use and unlimited-use licenses are available for builders and developers. Please contact us for a price quote.
Examples
Examples of typical sheets included in a standard set of plans are shown below.
General Notes, Area Calculations: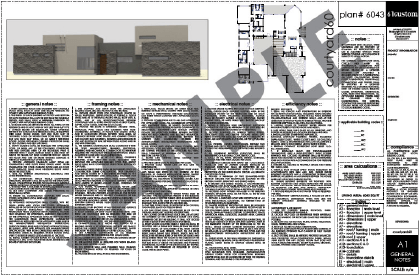 Floorplan:
Dimensions:
Elevations, Cabinets: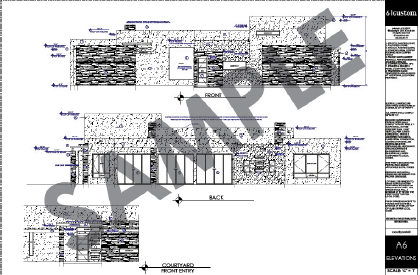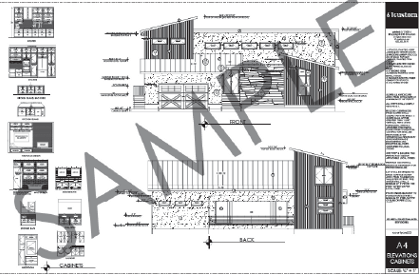 Roof, Framing, Clerestory Overlay: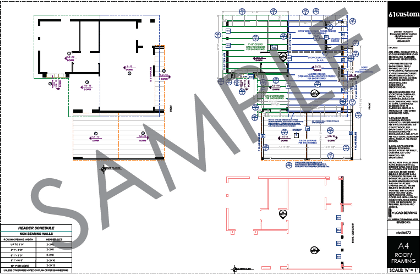 Sections:
Foundation: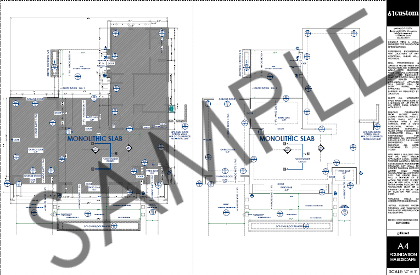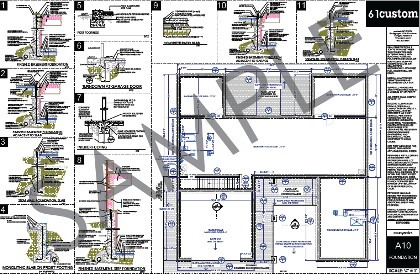 Electrical: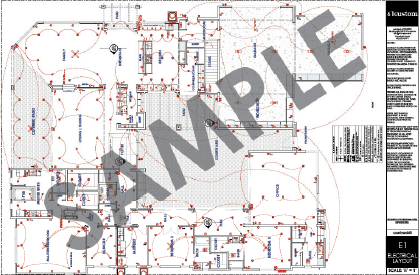 Details: