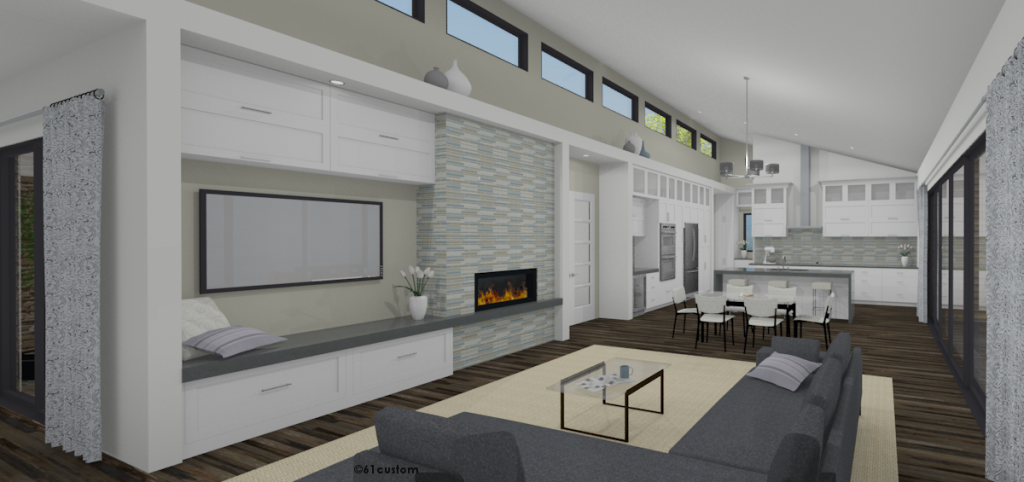 61custom offers 3d renderings of interiors and exteriors of homes. Many homeowner associations (HOAs) require 3D models be submitted for design review prior to building. Whether or not 61custom has designed your house plans, we are able to assist by providing realistic renderings for your HOA. Models can be rendered with or without terrain and landscape details. 3d models can be created with accurate sun shadows based on GPS coordinates for any time of year and day. We offer images in vector or photo-realistic styles. Contact us for an estimate.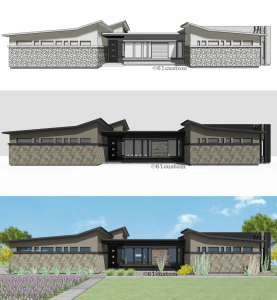 Many clients and builders find our 3d images helpful in visualizing the design prior to beginning construction. Our renderings help to provide clients with a better understanding of the finished product. Viewing the layout of a greatroom, kitchen or bathroom in 3D helps our clients visualize the layout and traffic flow of the spaces in ways 2D drawings cannot. This allows for design changes to be made before construction begins on a project, eliminating costly change fees.
Renderings are also helpful for builders when marking homes that are not yet complete. Renderings of kitchens, bathrooms and living areas can be used in marketing materials and MLS listings to help home buyers visualize those areas.
A rendering of the front of the home is included with each house plan. Most of our pre-designed and semi-custom house plans include 3d images of other exterior views and interior rooms such as kitchens, greatrooms and baths as well.
View our selection of house plans to see more examples of our interior and exterior renderings.