Our semi-custom home plans are pre-designed home plans that offer floorplan layout or style options. You can mix and match the options to design a floorplan that meets your needs. Examples of standard semi-custom options include:
Additional Garage Bays
Alternate Kitchen Layouts
Flex Spaces that can be Configured as Bedrooms, Offices, Dens or Playrooms
Alternate Exterior Styles
Alternate Laundry Room/Mudroom and Bath Layouts
Fireplaces or Built-In Bookcases
To order, simply choose each of your options at check-out. Our semi-custom home plans are then drafted with your unique combination of standard options at no additional charge. They are typically ready in 14 business days or less, depending on the plan. Some of our semi-custom home plans also include foundation options such as slab, unfinished basement, or finished walk-out basements for a small fee.
Custom Changes
We are happy to make custom revisions to any of our home plans. Custom changes include adding a bedroom, modifying doors or windows, changing the style or revising other design elements. Modifications such as changing a foundation type to work with your lot or changing a roof type or pitch can also be made.
Most of our home plans are modern or contemporary in style. If you see a floorplan that meets your needs but you prefer a different style, we can redesign the exterior to suit your needs. Many of our plans work well with Farmhouse, Spanish Mission, Craftsman, Southwest Contemporary, Industrial, Adobe, Minimalist Modern and Northwest Contemporary styles. Examples of custom changes include:
Changing doors, windows and kitchen layouts
Adding or removing rooms, basements or second stories
Completely re-designing sections of a house
Minor floor plan changes can typically be made in just a few days. Major design changes are typically completed in two-three weeks. 61custom can also provide site plans for building department approval and 3d renderings to help you visualize the spaces.
Examples of Semi-Custom Home Plans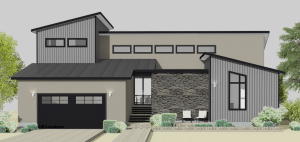 A client loved our courtyard23 semi-custom plan, but needed to make the home work on a lot that sloped toward the front. In addition, they wanted to add a second story over a portion of the home. The foundation was changed from a full basement to a crawlspace and a few interior and exterior steps were added to make the plan work on the sloped lot. Some accent siding was added on the exterior.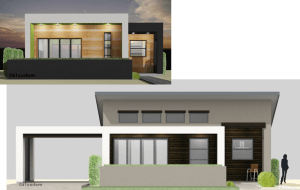 Clients wanted to add a carport, vaulted ceilings and high windows to our casita plan. They also wanted to add some universal design features for aging in place. We adjusted the hall, doorways, bath and kitchen to be navigated more easily with a walker or wheelchair if needed in the future.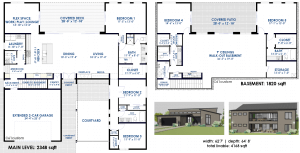 Another client wanted just a few floor plan changes on the courtyard23 semi-custom home plan. In this case, we relocated two bathrooms on the main level and added an extra bath in the basement. We also extended the cover over the entry walkway.
If you'd like to make custom changes to one of our house plans, fill out our change request form for a free quote.