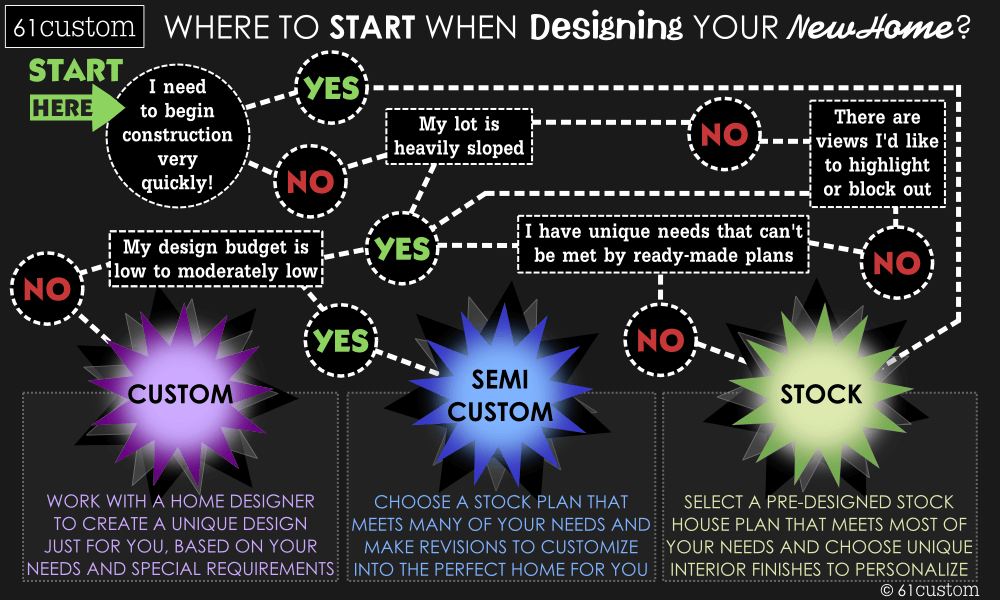 Stock House Plans are plans that are designed to appeal to a wide range of homeowners and are often purchased and built as-is. When purchasing a stock house plan from 61custom, changes can be made to stock plans for an additional fee, creating a semi-custom plan that meets your specific needs.
View Stock House Plans by 61custom >>
Semi-Custom House Plans are existing house plan designs that are changed to better meet your needs. The plans may have been initially designed for another homeowner or "spec" builder, or may be stock plans that are almost right for you, but need some changes. 61custom is happy to make revisions to any of our house plans to customize them just for you. We also offer a selection of semi-custom plans with floorplan options you can mix and match.
View Semi-Custom House Plans >>>
Custom Home Plans are designed specifically for the homeowner and the lot the home will be built on. When you choose to have a custom house plan designed for you, your unique lifestyle and design preferences and the characteristics of your specific lot will be considered during the design process.
Learn More About Custom Home Design >>>
Follow us on twitter, facebook and pinterest for updates and new plan releases!