If you're confused about energy codes, you're not alone. I was chatting with a window salesperson today, and when I asked if a particular window met the U-Factor and SHGC requirements for our area, he didn't have an answer. In fact, no one in the store had an answer.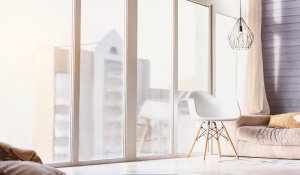 The energy code objective is great. This set of guidelines helps homeowners and contractors make energy efficient choices when building a new home or remodeling an existing home. However, it can be difficult for professionals, let alone homeowners, to find and decipher the information. If you're building a custom home or remodeling your home, here's what you need to know about energy efficiency requirements for doors, windows and insulation:
U-Factor: U-Factor measures the rate of heat transfer through doors and windows. The lower the number, the better. A lower number means less heat is transferring in or out of your home, depending on climate and season. Less heat transfer means lower energy bills!
SHGC: SHGC stands for Solar Heat Gain Coefficient. This number tells you how well a door or window stops heat from the sun from entering and heating up your home. Lower numbers mean less heat is transmitted, so if you're in a hot climate, you want a lower number. Less heat coming in means your air conditioner has an easier job…and that means lower energy bills!
R-Value: R-Value measures a material's ability to resist heat flow. Unlike the previous two measures, a higher R-Value number is better. The higher the R-Value of insulation or other building material, the greater the insulating power. In any climate, a higher R-Value means less heat is flowing in or out of your home. That means your heater or air conditioner doesn't have to work quite as hard, which equals lower energy bills!
Ask your contractor or supplier for these numbers when comparing brands and products.
What's the Minimum Required?
Since the climate is different everywhere, the minimum requirements for U-Factor, SHGC and R-Values are different everywhere. The Responsible Energy Codes Alliance is the best resource I've found for easily finding information on energy codes by county. Click Here and choose your state to find your climate zone and view a chart of energy code requirements by State and County. For Arizona, click here.
You can also view the IRC energy codes here.